Tauber Oil Company enters long-term Lease Agreement with Palermo Tanks
Tauber Oil Company has entered into a long term lease agreement with Palermo Tanks for 352,000 barrels of storage capacity at the Palermo Terminal in Barranquilla, Colombia, to supply naphtha and distillates to Latin America.
With storage capacity now in place at the Palermo Terminal, Tauber has effectively set up a strategic trading hub for business in Colombia.  This phase of the business plan represents our initial goal upon expanding our footprint in Latin America.  We are proud to say that this goal was accomplished within the first 6 months of our presence in the Latin American region.
Storage space at the Palermo Terminal will afford our new customers the convenience of easy accessibility to product.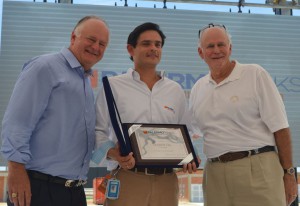 Richard Tauber and David Tauber, Sr. receive a "First User" Award from Roberto Pretelt, Commercial Manager at Palermo Tanks.