Tauber Oil Company receives Lifetime Achievement Award
Tauber Oil Company receives Lifetime Achievement Award at 2015 Carbon Black Asia Pacific Conference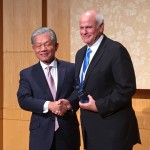 Mr. Hajime Nagasaka, CEO of Tokai Carbon Co. Ltd., presents David W. Tauber, Sr. with the Lifetime Achievement Award at the 2015 Carbon Black Asia Pacific Conference in November for Tauber Oil Company's 25 years of consistent service to the carbon black industry.
Tauber Oil Company's Carbon Black Feedstocks group, in existence since the early 1990's, quickly became the leading exporter of carbon black feedstock world-wide.
Tauber's company-wide commitment to providing our customers with first class service is next to none, and we look forward to keeping that commitment for years to come!